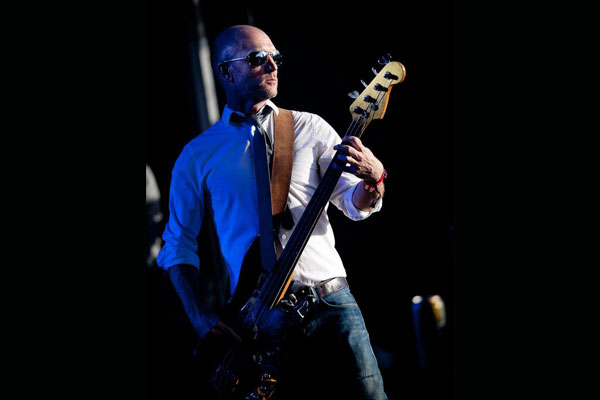 I'm a multi-instrumentalist (self-taught guitarist, bassist and drummer,and also classically trained as a brass and piano player) producer/songwriter. I've toured with many well-known bands, and written songs and recorded (as vocalist or instrumentalist) for several others.
My adult musical career began in the early 80′s playing drums and bass for two bands on the anarchist punk label Crass Records, The Mob and Zounds, touring Europe and UK several times over.
A burgeoning fascination for all things P-Funk led to me striking out on my own, signing to EMI and recording an album as the Neighbourhood, with a seven piece band (including Dexy's Midnight Runners horn section) which I put together. More touring followed, and a spot featuring as a singer on Afrika Bambaataa's album The Light.
Two more solo albums led to working with the disparate likes of the Horny Horns, LeePerry and reggae singer Bob Andy followed before the acid house era took me, along with many others, in a new musical direction.
Several purely electronic albums, twelves and ep's followed, under various guises, for labels such as Rephlex, Germany's Source and SanFrancisco' Reflective. As a long time singer and player of guitar, bass, drums, brass and keyboards this was a period of stripping back these organic elements, and being interested in such artists as Aphex Twin and labels like Basic Channel.
Inevitably my interest in more organically made music resurfaced and this resulted in Everything (PIAS Recordings, 2000), an album of songs taking in lo-fi, jazz standards and electronic-tinged folkiness) and Variations (on Nuphonic, under the name Soul Ascendants), a mixture of house, jazz and afro-beat, featuring collaborations with Fela Kuti's band leader and drummer from the Africa 70, Tony Allen.
At this time I contributed as writer and vocalist to Groove Armada's third album, Goodbye Country Hello Nightclub, which led to touring with the band as vocalist with sometime guitar, trumpet and keyboards duties; I also contributed to the next two studio albums, co­-writing several of the songs on the album Soundboy Rock (including the hit Song For Mutya) as well as singing, playing and arranging in various capacities. This relationship also led to the formation of a side project with Tom Findlay, under the name of Sugardaddy, which yielded an album and more touring.
Touring-wise, after joining Paul Oakenfold's band for a tour of the States, I wrote a song for Ian Brown's album Solarised (namely Time Is My Everything), which led to a seven year involvement with Ian involving more writing, playing brass, bass and guitar live and on record as well as drums for his album My Way.
A chance encounter with Liam Howlett of the Prodigy also saw me working extensively on the album Invaders Must Die, co-writing the single Omen (on which I sung) and others (also contributing guitar). This led recently to me co-writing and contributing vocals to four songs on the recent album, The Day Is My Enemy, and contributing guitar and vocals on another album track, and also co-writing a further song due for release on an upcoming ep.
I'm also involved with Above & Beyond, (the mostly British EDM outfit who sold out Madison Square Gardens in 2014) with their acoustic/unplugged albums and tours, having filmed a live dvd and played a succession of gigs in London and LA in 2013, and due to tour the world in May 2016 taking in such venues as the Albert Hall, Sydney Opera House and the Hollywood Bowl, playing brass, guitars, keyboards and tuned percussion.
I'm also co-producing a solo album by Tony McGuinness, who is one third of Above & Beyond.
Other bands and artists I've toured or recorded with include Hybrid, Bat For Lashes, the View, Plaid, Amy Winehouse, Amy MacDonald, Professor Green, Mike Skinner's new project the D.O.T., and the Dub Pistols – the latter being a long-term (10 year-plus) involvement in touring, recording and writing.
I moved to Yorkshire in 2008, and have been producing music from my own studio since 2010.
The first project for production in this phase was an album for Polish singer Tatiana. From this album, the single Been a Fool (a song I first wrote for my album Everything in 1999) reached the number 1 spot in Denmark in 2011.
Other albums I've produced for foreign artists include two for Chinese star Jeffrey G, which have yielded a no.1 song in China and many plaudits over there.
I have also just co-produced an album for German band Pool, for which I spent a month in Mousse T's Peppermint Park Studios in Hanover this year (2015).